fresh ink:
August 19
All Spiced Up
Matthew Van Brink Dal Dosai, 2001
Baljinder Sekhon Passageways, 2015
Mark Applebaum Three Unlikely Corporate Sponsorships, 2016
Libby Larsen Trio in Four Movements, 2006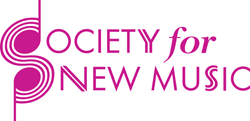 what's new:
Libretto of Pushed Aside: Reclaiming Gage now available for purchase
see and hear

Suggested giving levels
Friend: $100-$199 Donate at the Friend level and receive one free season ticket.
Patron: $200-$299 Donate at a higher level and receive two season tickets.
Angel: $300-$499
Sustainer: $500-$749
Sponsor: $750-$1000
Stay in touch.

Sign up for our mailing list, and connect with us on Facebook and Twitter.



who we are
what we do
438 Brookford Rd., Syracuse, NY 13224 snm@societyfornewmusic.org