fresh ink:
September 27
Tonal Venerations
Kevin Ernste Palimpsest, 2014
Chapman Welch Hummingbird Medicine
Mick Rossi Euro
Jeremy Cullen Valse Nostalgique
Jeremy Cullen Gymnopedie
Jeremy Cullen Avenue des Gobelins
Jeremy Cullen Waltz on a Theme by Alban Berg, 2014
Jeremy Cullen Prelude No. 4 in Eb major
Jeremy Cullen Tuis, Hataitai, 2015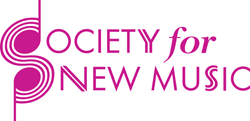 what's new:
Thank You To Those Who Made Caz Counterpoint Possible
see and hear

Suggested giving levels
Friend: $100-$199
Patron: $200-$299
Angel: $300-$499
Sustainer: $500-$749
Sponsor: $750-$1000
Stay in touch.

Sign up for our mailing list, and connect with us on Facebook and Twitter.





who we are
what we do
438 Brookford Rd., Syracuse, NY 13224 snm@societyfornewmusic.org